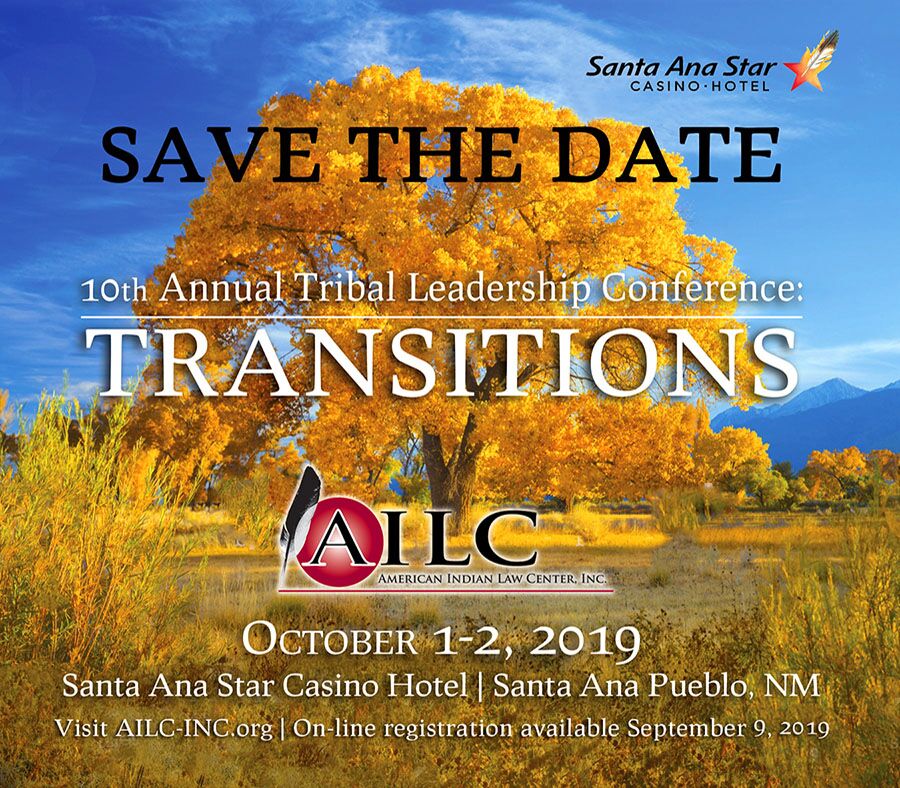 10th Annual Tribal Leadership Conference: TRANSITIONS
October 1-2, 2019
Santa Ana Star Casino Hotel
Santa Ana Pueblo, NM
Registration deadline extended to Friday, September 27, 2019
Click for Downloadable Registration Form
CONFERENCE HOTEL INFORMATION
Attendees must make their own hotel arrangements
Santa Ana Star Casino Hotel
54 Jemez Canyon Rd., Santa Ana Pueblo, NM 87004 | Tel: (505) 867-0000

 Conference Block Room Rate is $94.00 per night**
Deadline for block room rate is September 23, 2019
Reservations: (505) 867-0000 ~ Reference: "AILC 1177" for conference block room rate.
No-Shows and early departures will be charged one night's room rate and tax.  Individual cancellations must be made 72 hours prior to the arrival date, to avoid no-show charges.  Rates cannot be changed at check-in or check-out for guests who fail to identify their affiliation "AILC 1177" at the time the reservation is made.  All reservations must be guaranteed by a valid credit card.
**Lodging and travel reimbursements are available for Tribal Court Judges and Tribal Court Staff (i.e., court administrators, court clerks) located within NM, AZ, southern Colorado and west Texas.